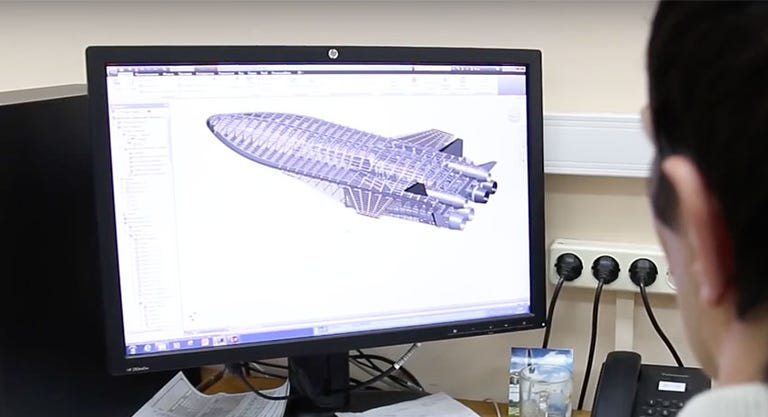 By Serg Kenzorov
Yuzhnoye State Design Office works in collaboration with the Yuzhmash machine-building company. They formerly designed Soviet intercontinental ballistic missiles, satellites and aircraft. Today, the company designs and builds satellites, rockets, rocket engines  and other orbital launch vehicles for Russia, Europe and the US.
Two successful recent Yuzhnoye projects following Ukraine's independence include the boosters and first-stage engines used by the United State's Antares Rocket that recently resupplied the International Space Station. Yuzhnoye SDO also built the engines fitted to Europe's Vega launcher. Yet, even more international collaboration is ongoing.
As Saudi Arabia rises to prominence as a force within high-tech industry and military applications in aerospace, the Prince has added partnership with the Ukraine to his country's ongoing plans. Adding to his futuristic vision for the $500-billion city construction is numerous upcoming aerospace projects.
Ukraine and Saudi Arabia are working together on aerospace engineering initiatives including the GROM-2 Tactical Ballistic Missile, a conventional mid-range medium-sized satellite launcher, and a new mobile short-range ballistic missile system called  Thunder-2 which will complete construction by 2022 – this also built also by Yuzhnoye
Yet,  it is the construction of an orbital plane potentially commission by Saudi Arabia that draws the most interest. With hypersonic capabilities and the ability to carry small satellites into orbit quickly and cheaply, the orbital aircraft is the first of its kind. Yuzhnoye refuses to provide any commentary or details regarding the project following the publication of their plans for a Saudi Arabian orbital plane in Popular Mechanics during the course of 2018.
We have uncovered the following facts that show Yuzhnoye's involvement in the development of an orbital aircraft for Saudi Arabia:
2015
Two documents were submitted to King Abdulaziz City of Science & Technologies (based on shipment documents)

Unmanned Orbital Vehicle (UAV) Proof of Concept 

Orbital Plane Proof of Concept

2017
From 2017, Yuzhnoye has been publishing and updating a scientific report concerning a thermal analysis of heat-resistance surfaces for reusable use at a high-altitude as part of a supersonic flying vehicle that can land and launch like an aircraft while being used in a space transportation system
2018
Popular Mechanics publishes an article on March 14th, 2018 citing Yuzhnoye's concept presented to Saudi Arabia for a space-shuttle like vehicle
2019
Yuzhnoye begins amassing cutting edge high-tech technology including a

new computing center built around a supercomputer

, 3D printers, mass production machines & tools for composites, and numerous forms of diagnostic & testing devices
The completion of an orbital aircraft following the known specifications will be a breakthrough in joint space ventures for Ukraine and Saudi Arabia. Only time will tell if the speculations will come to fruition, marking a massive move forward for both countries. We're all positive and hopeful.